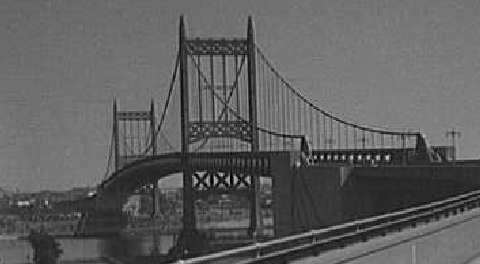 Longtime commenter Ferrell made an observation about growing space traffic in the discussion on
Adventures in Orbital Space
that fits neatly into the setting portrayed in
The Weekly Moonship
:
At some point, traffic control and enforcement would be needed to keep ... impending chaos under control. As more people start working in orbit, the more positive control will be needed, traffic growing exponentially.
In a word, yes. A rudimentary framework for space traffic control already exists; I believe that orbital slots, at least in geosynch, are assigned by the International Telecommunications Union. But as space traffic grows, so will the need for traffic management and enforcement, as well as emergency response services. On land these tasks are commonly divided between police and fire agencies; at sea they are combined in the Coast Guard
(at least in US practice)
.
The mission will eventually call for suitably configured and equipped spacecraft. And like the Coast Guard and its cutters, the agency and ships will in some broad sense be quasi-military in character.
Okay, let's be honest. This blog does not encourage war in space
(or anywhere else)
, but that certainly hasn't kept me from writing about
space warfare
, or kept you from reading about it. But here I specifically want to look at what may be called 'organic' military or at least quasi-military activity in space - missions that relate to other human space activity, not just earthly power politics.
The distinction is important in more than one way. Navies have historically been 'organic' to sea trade (even if the first mission of the Royal Navy was and is to prevent another 1066). For that matter, armies have generally been 'organic' to the lands they defended, oppressed, or both.
Even more to the point, several great powers
already have
large military space armadas, and have for half a century. We call them ICBM forces, and neither as spacecraft nor as weapons are they really all that interesting. This isn't just Armageddon aversion - their 1950s predecessors, the B-52 and TU-95 Bear intercontinental nuclear bombers (both still in front line service, though mainly in other roles) had just as horrific a mission. But they were and are seriously cool airplanes, indeed acknowledged classics. You can enjoy and agree with the message of
another Kubrick movie of the 1960s
; those B-52 sequences
still
totally rock.
Yee-haaaa! Yee-haaaa! Yeee-haaaaaaa .....
I think we can draw a broader message from this. The spacegoing equivalent of a coast guard cutter may not match the
Romance
quotient of a 44-gun frigate close-reaching to windward, a bone in her teeth and her guns run out. But it is probably more interesting technologically and operationally than a robotic battle station designed to vaporize other robotic battle stations or the occasional city.
And, most of all to the point, the coast guard cutter is in almost every case a far better delivery vehicle for a payload of adventure.
So how does it emerge? I will start with the agency that deploys it, the Space Authority. This rather bland name is inspired by the Port Authority of New York and New Jersey, an agency that in its mid-20th century heyday, under
Robert Moses
, was notoriously powerful and independent, and reshaped New York City (albeit in ways that are now widely deplored).
The Space Authority was founded in 2022 - or it might have been 2012; I haven't double-checked, and in its early decades the Authority was all but invisible. Its overall mission was and is to co-ordinate space activity, assigning orbital slots, enforcing safety regulations, and such. The Authority was set up by the major space launch players, but its guiding force was - and this is
not
a contradiction in terms -
a shrewd, tough, and above all visionary bureaucrat
.
To avoid endless wrangling over a tiny budget, this individual proposed a dedicated funding stream, a $10,000 fee for every ton placed on orbit. To the power players this was convenient and cheap, the fee coming to about 0.1 percent of contemporary launch cost. Even to penny-conscious Elon Musk it was chump change (and Musk might well have seen through the game and still figured it was worth playing, and paying).
And since space traffic had been fairly steady for decades, a few hundred tons annually, hardly anyone expected conditions to change. The Space Authority had just enough money, a few million per year, to rent some office space in Geneva or wherever, and hire a couple of sharp young attorneys as staff. Space law enforcement, in this early era, did not mean spacecraft with flashing red lights. It meant a letter, hand delivered on real paper
(lawyers likes that stuff)
, directing attention to Section 28, Subparagraph h(3), 'Penalty for Noncompliance'.
Time marched on, and space traffic volume grew. By the time the moonship
Henry Mancini
is docked to Airlock 10-A, 100,000 passengers and 70,000 plus tons of cargo payloads are going into space every year, plus the upper stages of the shuttles that put them there. The Space Authority budget is now on order of a billion dollars a year, current value. Still chump change by Pentagon standards, but this is a real budget, enough to charter or buy and equip a couple of ships for special missions - and develop a more capable, purpose-built model. The need may not yet have fully arisen at the level I described, with its 6-8 passenger ships operating beyond low Earth orbit. But it is clearly on the horizon.
The primary mission of these first Patrol ships will likely be the noblest: space rescue. Rescue in deep space is problematic at best; the distances are simply too vast. By the time you reach a stricken ship or outpost it probably won't have any survivors left to rescue. But rescue in orbital and local space is a different matter.
We have already had a case where space rescue could have made all the difference. Had the extent of damage to
Columbia's
heat shield been recognized, a rescue mission would have been feasible in principle. I sadly suspect that NASA closed its eyes and grit its teeth because no rescue was possible in practice. Even the Russians, with their simpler, robust architecture, could not have cued up a double Soyuz mission in time, and
Columbia
was on an orbit that Soyuz, from its high-latitude launch site, probably could not reach.
But once space rescue is practical it is necessary, and the Authority needs a ship or two that is up to the job. This means sacrificing operating economy in favor of flexibility and performance, specifically the ability to deploy on short notice and reach as many orbits as possible, meaning plenty of maneuver capability, AKA delta v. Onboard equipment and facilities, in addition to sick bay, likely include storage and support for taxi craft and robo pods used to work around crippled, possibly tumbling spacecraft, plus a miniature onboard Mission Control for directing operations.
The first such ships will be handbuilt prototypes, thus costly; the Authority might need to issue revenue bonds to fund the development program. Follow-ons will be less expensive, though still more than commercial models since the mission is more demanding. Say $200 million per ship for a 100-ton ship (unfueled), and $60 million per year to keep each in service, plus propellant for training missions. Perhaps $150 million annually per ship, all up, so the Authority can keep three or four in service.
And it possibly has not escaped your attention that the major characteristics of these ships - their flexibility and performance - are very much what you would expect of warcraft.
(May the Episcopalian God of my childhood forgive me, agnostic that I am, for perverting angels of mercy into angels of wrath.)
Throw in fittings like those (potential) weapon bays and CIC or tactical control center and you have the raw material of a handy basic space warship.
Even militarized, these Patrol ships would be no match in sheer firepower for the sorts of weapon platforms the great powers might deploy. But they are far better suited to exerting a presence in orbital space. Über battle stations leave policymakers with a pretty stark options menu - nothing between issuing a sternly worded letter of protest or blowing someone up. A Patrol ship can switch out the medics for a SWAT team, go out to any orbit,
arrest
someone, and haul them in to face charges.
And that is how you effectively and flexibly exercise power, or dare I say Authority, across local space.
What are the chances of some such agency and some such ships emerging? Given the scale of space activity I have portrayed - hardly a
given
- I'd actually rate the chances moderately high, say five percent to 20 percent. Someone will need to do it. The great powers won't trust each other, and won't want to spend their own money on forces suited to keeping order in orbit rather than overawing their terrestrial rivals. Business interests will want some law and order up there without getting too entangled in international power politics. Yet the outcome suggested also would mark, quietly, a beginning for
space-centric political structures
.
On Independent Orbit?
Potentially, at least for purposes of opera, it might be a good deal more than that. As noted here before on this historically significant anniversary, the
Revolt of the Colonies
has been a long-standing theme in space-oriented SF; particularly, for obvious reasons, 'Murrican space SF.
In the rocketpunk era the Space Patrol was commonly understood to be an arm of the
American Empire
Terran Federation. As such it would be cast in the role of the Redcoats in any Independence Day scenario. (
Though, notably, Heinlein in Between Planets did not call the Federation forces, or any component of them, the Patrol; that name was reserved for stories where the Patrol and the Federation itself were good guys.
)
But the Patrol as outlined above arises in different circumstances, where there is no Federation, certainly nothing like a world state, only the great-power muddle we have known since
1648
- or perhaps even a more thorough muddle, known to students of international affairs by the wonderfully
Game of Thrones
-esque name of
neomedievalism
.
In such circumstances, as suggested above, the Patrol is not an instrument of any terrestrial power, but one that arises from the circumstances of space itself, politically embodied in this account by the Space Authority. No one on Earth quite owns it, or can even agree on who
should
own it.
There would likely be no Declaration of Independence, no need for a gifted rhetorician to remake poor old George III into Caligula. Possibly the last thing the Authority wants is to call that kind of attention to itself and its expanding role, and gaining a seat in the UN General Assembly, or successor body, is the least of its priorities.
Unless, of course, the overriding demands of story call for a Concord, a Saratoga, a Yorktown. In that case, have at it.
Discuss:
The image of the Robert F Kennedy or Triborough Bridge, built by the Port Authority in the Robert Moses era, comes from a
blog about NYC area highways
. Apart from my institutional reference, what does it have to do with space? Who cares? Bridges are always cool.
The image of a
Port Authority police patch
comes from a police officers' organization website,